Having been caught up in the craze of collecting LEGO minifigures, I started by buying a grey 48 x 48 stud base plate to display the various minifigures.
As the collection grew, the base plate was running out of space with a mix of Collectible Minifigures, Star Wars and other minifigures from Toy Story and Shell. It was also a hassel to constantly dust and clean it.
Looking around online, I saw various methods that people have come up with to display their proud collection. There were some cases from hobby shops but shipping would have been expensive plus I would still need quite a few bricks and other pieces to make the shelves and stand for the minifigures.
Another popular option was using the IKEA Ribba deep frames. After all, there's an IKEA store in almost every big city so that would be one of the easiest and affordable choices. The Ribba deep frames are available in two sizes, 23 cm x 23 cm (9 inch x 9 inch) or 52 cm x 52 cm (20 1/2 inch x 20 1/2 inch) and come in black or white.
The IKEA store I visited did not have the larger Ribba frames in stock and so I made do with the smaller size in black.  On the way back, my mind was buzzing with ideas as I still had to solve the puzzle of making the shelves to hold the minifigures inside. Also, what should l display inside it? Could it fit 16 minifigures to house a complete Collectible Minifigures Series? Or maybe my collection of Star Wars Minifigures?
Here's a photo of the completed frame. More details after the photo.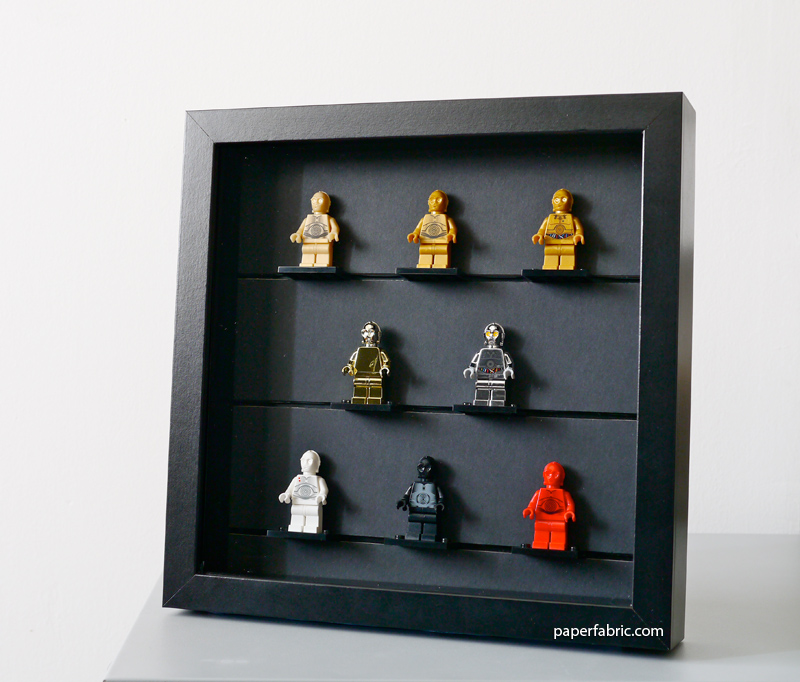 Hand Crafted Small LEGO minifigure display
Black colour backing creating contrast to accentuate the LEGO minifigures.
Three rows for displaying multiple minifigures in any configuration.
Grooves allow repositioning of LEGO base plates to suit your requirement.
View the Large LEGO minifigure display here.
Like the LEGO minifigure display but don't have the time or tools to make it? Contact us to customize one for your collection.